Determined to see positive changes in the world, Cascade, and sister companies Crux and Cipher, continue to donate 1% of all sales to good causes.
This time we have made another donation to 'Trees for Life', a Scotland based organisation with the aim of rewilding the Highlands. Tree-planting and forestry management, is also mixed with a lot of other conservation projects, including aims to protect and bolster the populations of some native species, such as the Red Squirrel.
Helping to reduce the impacts of climate change, preventing flooding and erosion and providing opportunities for hundreds of thousands of people to experience and be inspired by wild nature. There are many amazing benefits to their mission.
Recently a crowdfunding partnership between Trees for Life  and Triodos Bank UK , raised £2 million within 48 hours with funds going towards the worlds first rewilding centre in the Scottish Highlands.
Once the centre is complete, it will provide the local economy with new local jobs.  There will be an all-weather visitor centre, child-friendly forest experiences and more adventurous walks, while an accessible accommodation space will allow for longer educational and volunteering stays.
That also means theres somewhere to stay when you head north to visit the Cascade grove, and with our most recent donation we have increased the size of the grove to 225, keeping us on track to have 1'000 trees planted within 5 years.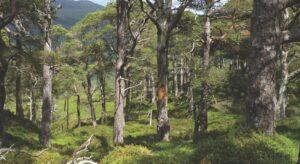 To digitally visit the Cascade Grove, or to donate directly to it, click here.
And to find out more about the amazing work that Trees for Life are doing click on the link below.