SKO 2019!
Less than a week on, and we've just about recovered from the serious HYPE at the Scottish Kendama Open 2019. It had been 6 years since the last major Kendama event in Scotland! 6!!!
But I doubt we'll be waiting that long till the next one.
Bringing together Players from far and wide, the Sound Kendama team were incredible hosts, ready to share tricks, pull faces and make a whole lot of noise, they love the community!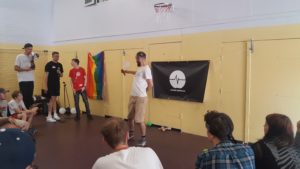 The comp day brought together players of all ranges of ability, and notoriety. From young teens looking to lace their first juggle, the British Kendama Open National Champ, Rob Henman, even the legendary Donald Grant and his array of mind boggling tricks, everyone was welcome.
Kendama London, Royal, Project Ark and Stay Honed all had players representing in the competitions, alongside some independents and members of the SK team. Even Bob got involved in the Freestyle to rep for Cascade.
The Intermediate SpeedLadder was the first call of the day. A race to lace, but you've got to hit the tricks in order.
Up next was the serious event, The Pro Open. 1 vs 1, a trick is pulled from a hat, each player taking it in turns to attempt it. 3 tries, unless someones successful, then their opponent gets 1 chance to reply. There were some serious competitors involved in this, but most eyes were on this years BKO's National Champ, Rob Henman, Pro for Royal. Rob made it to the final, meeting Sound Kendama's Marius Saunders. After a heated, back and forward match getting all the way to 4-4, Marius came away with the title, lacing the tricky 'Around SK', for the victory!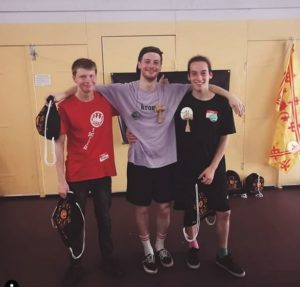 Last up, the Freestyle. Another 1 vs 1, no-holds barred battle, this time each competitor gets two 45 secondrounds to bust out whatever they've got, using whatever they want, as long as a Kendama makes an appearance. Judges then vote for who they thought was the strongest performer based on both rounds, with Difficulty, Creativity and Steez being the 3 things they're really looking out for. After a lot of hilarity and some epic tricks, Project Ark's, Ewan McKay came away with the win.
With all the competitions wrapped up it was time for the prize giving, a quick group photo and then a chill in the park, before we had to head back to Edinburgh.
Massive thanks to all the players, all the sponsors and the Sound Kendama Team, without whom this event wouldn't have been possible!
See you all at the next one!