Hello wonderful humans!
Christmas is nearly upon us once more, and we know our catalogue can be a little daunting to those who aren't well versed in the circus or magic world, and that there's always a person or two in our lives who can just be tricky to get presents for.
So this year we've decided to help a bit and have thrown together a little guide of some gift idea's and who they might be suitable for.
Juggling Balls!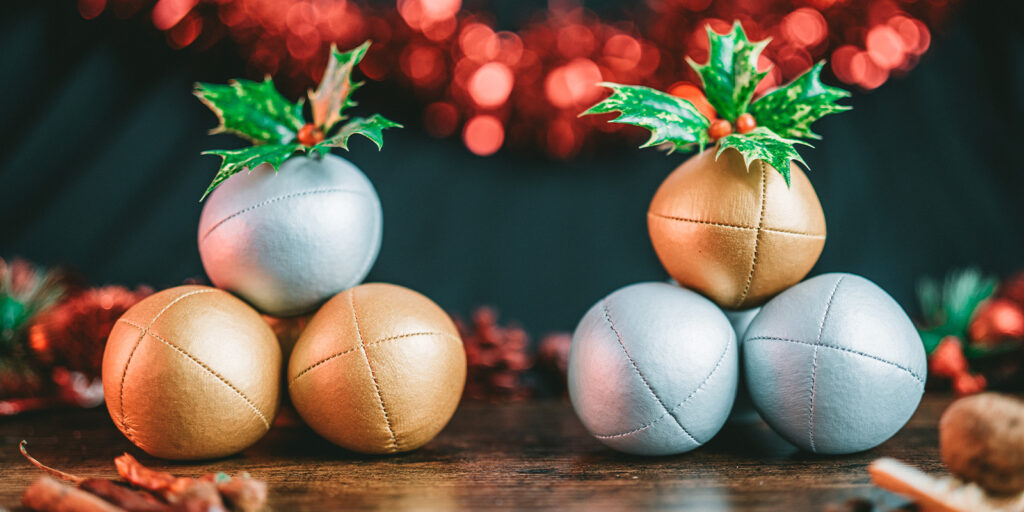 Of course, we have to recommend juggling to you! An amazing skill that can be challenging to learn, super fun to do and really easy to share with others. Juggling is something that everyone can do! Sometimes it just takes a little perseverance.
We've seen jugglers as young as 5 and as old as 75, so age shouldn't be a huge factor. However, hand-size and strength is certainly something to be considered.
Our 'Cascade Classic' range has that covered. Coming in 3 different weights and sizes, they are perfect for a variety of people. Made from a non-stretch material, these 'Thud' juggling balls are very durable and long lasting, and come in a wonderful number of colours to choose from. Check those out here.
Kendama
A what? We might hear you say. Picture a 'Cup and Ball', but with more Cups, the Ball's got a hole in it, and there's a spikey bit too.
A traditional Japanese wooden skill-toy, now over 200 years old, has been spread all over the world in the last few decades and has seen many changes to it's shape and design. While it can be used to develop focus, concentration and co-ordination, it is also loads of fun to play with, and new tricks are being created with it all the time! This prop is great for any age between 7 and 77, they also look great on a shelf too.
The Boost Radar is the entry level model from Sweets Kendama's, but it's also great for experienced players. It's got nice wide cups and a sticky paint finish on the ball to make landing your first tricks, just that little bit easier.
Magic
Whether you know someone who's been captivated since their first magic kit, or someone who forever enjoys learning new skills to create wonderful effects, then they should probably have the 'Royal Road to Card Magic' in their collection.
Viewed by many as being a cornerstone in any good magician's library. This book starts with the fundamentals, guiding the reader through simple tricks and on to things far more complex, that will have any audience enraptured. It also break's down a lot of sleights, so that the reader might start thinking of how they would create their own effects, tricks and routines.
Also perfect for anyone that enjoys a good read, or likes to understand just how on earth magicians do those things!
Note, this is probably more suitable for ages 10 and over, as there is a need to be able to comfortably hold a pack of cards in one hand.
Slacklines
By now you've possibly seen folk in the park hovering unsteadily in the air, walking a wobbly line between 2 trees, or watched videos online of those more daring, traversing over rivers and ravines.
A lot like a tightrope, only a bit wider and with more bounce, Slacklines are wonderful for developing balance, coordination, spatial awareness and confidence, plus they're a great reason to get outside.
The 'Barefoot Slackline Set' is a fantastic entry point line. At 15m in length but 50mm wide, you can set-up quite sizeable walks and still have a lot of security about where you are placing your feet. This set also comes with a thinner line, to be set-up around head height so complete beginners have something to hold on to while learning to take their first steps…again.
More Magic
The fascination of sleight of hand, the wonder of mis-direction or the grandeur and mystery created through performance is something that can be appreciated and achieved by all ages.
'Sponge Balls' are a great entry into all of those facets. Easily managed by hands of all sizes and minds of all ages. The effects that can be created with them range from the simple, to the absolutely mind-boggling.
Our 'Set of Four Sponge Balls' come in a variety of sizes, a few different colour options to choose from, and with some basic trick instructions too.
Diabolo
A prop that has also been around for centuries and still causes absolute wonder and delight, the Diabolo is a bit like a big Yo-Yo, though entirely in a world of it's own. It's a fantastic prop for developing rhythm, focus and hand-eye co-ordination, though it is best suited for ages 10 and over.
The Diabolo now comes in lot's of different variation's, but the main 2 categories are 'Bearing' and 'Non-Bearing'. Non-Bearing Diabolo's, being the traditional version of the prop, would require the player to take breaks from tricks, to speed up the Diabolo once more. With a Bearing Diabolo, the prop will spin for much longer, enabling greater sequences of tricks.
The 'Juggle Dream Quartz' is a great Diabolo for beginners and also for those already experienced with the prop. The triple-bearing, gives much more stability and some amazing spin times. Now with strengthened rims and an improved axle, it also comes in a variety of stylish colours.
And there you have it folks, just a few gift idea's, though we have plenty more in store. If it any point you have any further questions or queries your always welcome to give us a call, drop us an email, or if your about Edinburgh, pop on in to the store, and one of our amazing team will do everything they can to help.